Great Car Jokes and Funny Driving Jokes
Eddie was driving down the road and met a car coming the other way.
Although there was room to pass easily, Eddie forced the oncoming car to slow down and wound down his window and shouted 'Pig'.
Astonished, the other driver looked in his rear view mirror and swore at Eddie.
Then his car hit the pig.
Well, there you go. Not everybody has your worst interests at heart! And sometimes when you help people your help is what gets them into trouble.
Ah, the irony of life.
Reckless Driving
A policeman pulls over a driver for swerving in and out of lanes on the highway. He tells the guy to blow a breath into a breathalyzer.
"I can't do that, officer."
"Why not?"
"Because I'm an asthmatic, very seriously affected. I could get an asthma attack if I blow into that tube."
"Okay, we'll just get a blood sample down at the station."
"Can't do that either, officer."                   
"Why not?"
"Because I'm a hemophiliac. If I give blood I could die."
"Fine then, just step out of the car and walk this white line."
"Can't do that either, officer."
"Why not?"
"Because I'm drunk."
Just Being Honest …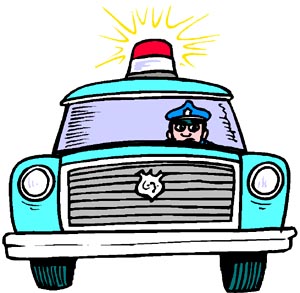 A man seeing flashing red and blue lights in his rear view mirror pulls to the side of the road.Shortly after coming to a stop, a police officer approaches the car.
The man says, "What's the problem officer?"
Officer: "You were going 75 miles an hour in a 55 mile an hour zone. I'm afraid I'm going to have to ticket you."
Man: "No sir, I was going a little over 60."
Wife: "Oh, Harry. You were going at least 80!" (The man gives wife dirty look.)
Officer: "I'm also going to give you a ticket for your broken tail light."
Man: "Broken tail light? I didn't know about a broken tail light!"
Wife: "Oh Harry, you've known about that tail light for weeks!" (The man gives his wife another a dirty look.)
Officer: "I'm also going to give you a citation for not wearing your seat belt."
Man: "Oh, I just took it off when you were walking up to the car."
Wife: "Oh, Harry, you never wear your seat belt!"
The Man turns to his wife and yells, "For cryin' out loud, can't you just shut up?!"
The officer turns to the woman and asks, "Ma'am, does your husband talk to you this way all the time?"
And so the wife says, "No officer, only when he's drunk."